Niche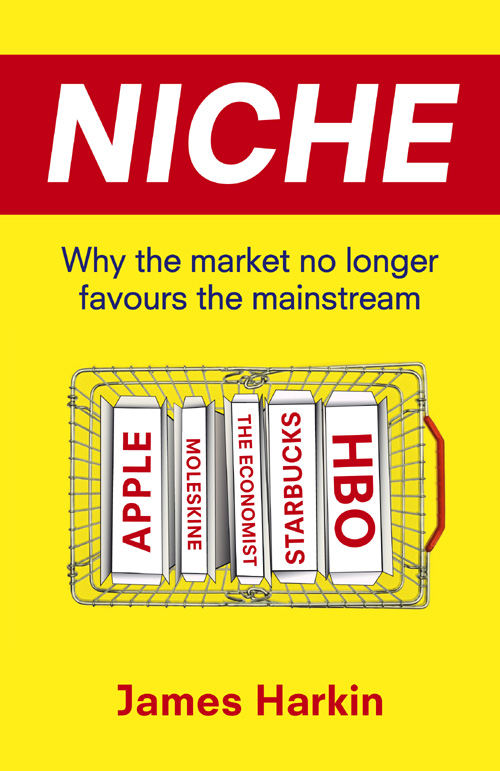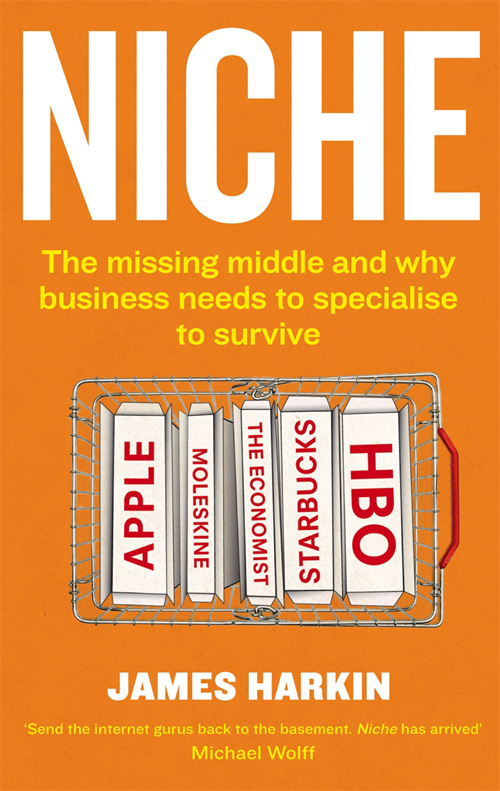 Niche is about the 'missing middle' of contemporary business, culture, media and life – and what comes after. With case-studies drawn from retail, manufacturing, culture, media and politics, the book argues that it usually pays to forget about the general audience and instead stake out an identifiable niche. Gap, for example, tried too hard to provide something for everyone and it has faltered as consumers have turned their backs; Woolworths suffered from a lack of identity and found that low quality and low price wasn't enough; McDonald's has been forced to adapt to stop a massive slide in turnover; General Motors crashed as motorists failed to distinguish between cars in their range. Yet HBO, Moleskine and specialist media like The Economist have all succeeded by building their authority over narrow areas of expertise and cultivating passionate audience around them – and their audiences and profits have mushroomed as a result.
For sixty years our cultural consumption has been controlled by the giants of the mainstream market. But the sands beneath them have shifted they've become weak and defensive – hovering around the middle of the market and striking out wildly in search of new audiences. It hasn't worked. This book is about what happens when no size fits all, where anyone who tries to be all things to everyone ends up as nothing to anyone. It offers insights into how we behave when faced with a bewildering range of choice, why it's easier than ever before to find what we're looking for and what happens when we all want to be different. And it argues that innovation and profitability are quietly moving from the middle of the market to a series of tightly defined but globally scattered niches, bound together by the reach of the net.
Niche was business book of the month in Waterstone's in the UK in March 2011, and has been extracted in Newsweek magazine. It has been written about everywhere from The New York Times to Time magazine, and the hardback edition sold out in just four months. It is published as a trade paperback by Abacus on 2 August 2012.
Reviews:
"Send the internet gurus back to the basement. Niche has arrived. Level-headed but optimistic, Niche is a business plan for the brain, and a manifesto for quality" – Michael Wolff, author and columnist, Vanity Fair
"Fascinating stories, some big thoughts and an intriguing argument' – Evan Davis, BBC presenter, Today and Dragons' Den
"An excellent and timely explanation of how, in terms of what consumers buy, big and mainstream is over and niche is in. Harkin illustrates his thesis that the future belongs to not necessarily small but certainly perfectly formed and expertise-driven products with a highly original overview of cars, coffee, notebooks, computers and media. But this is also a very funny memoir and Harkin's description of the ICA's attempt to go mainstream five years ago, thus deftly missing the point of the ICA, is written from the perspective of a man who knows what happened as he was the ICA's director of talks at the time. So deft, intriguing and entertaining – perhaps wasted on that salesman boarding the 7.14 to Düsseldorf then." – Time Out
"A fascinating examination of the evolution of the consumer counter culture…Packed with historical context and fascinating economic analysis, Niche is both informative and highly accessible via a range of anecdotal and statistical evidence. In the cut throat world of niche markets, the ability to adapt has never been more important." – Business Destinations magazine
"Enthralling…a fascinating book. Its easy-going style ranges confidently over the modern marketing landscape and the examples of brands rising and falling are compelling. The research is excellent too, and it is when nuggets emerge – such as the tendency of social niches to encourage diversity of opinion among their members – that Harkin really teaches you something." – Management Today
"Thoughtfully researched and presented…offers hope that in a world where we are surrounded by the generic, those that seek to do something differently are winning through." – Scotland on Sunday
"An interesting, entertaining read" – The New York Times
"[Harkin] writes well, displays keen intelligence, and wears lightly a wide range of expertise…As a compilation of articles and essays on contemporary business and culture, this book is a good read" – The Financial Times
"A cracking new book…sparkling cultural critique. Difficult to pin down… It's more like a boutique, one offering a range of well-crafted capsule accounts of the success and failure of various businesses and organisations, from Starbucks to the Institute of Contemporary Arts in London, but united by an ambiguous sounding leitmotif: the emancipation of the consumer." Spiked
"For CEO's thinking of world domination, do yourself a favour and read this book. Social forecaster James Harkin is totally convincing as he tells us that the days of companies selling anything and everything under the sun have gone. The successful brands are all about honing and capturing niche markets. He provides case studies that include HBO and The Economist, companies that are specialists and aggressively sell themselves as specialists. Harkins writes lucidly and his book is a must for laggards." Hindustan Times (India)
"An imperative read." The Hindu (India)
"Harkin makes a convincing case, and illustrates his theory with pithy, well-chosen anecdotes. In an age of collapsing business empires and financial meltdowns, entrepreneurs, both old and new, could do with some fresh advice. Hapless consumers, on the other hand, might enjoy reading the book for the trivia." The Telegraph, Calcutta (India)
"An inspiring book which puts entrepreneurs and creatives at the core of business…scary stuff for anyone keen to sell what they have, but encouraging for those who realise they have to offer what their market wants." The Deal magazine (The Australian)
"The core message in this thoughtful book is that businesses need to find an identifiable niche rather than trying to be everything to everyone…the numerous case studies in the book illustrate his points well." The Irish Times
Buy Online
UK Print & Ebook
Amazon.co.uk | Book Depository |
Hive.co.uk | Waterstones | WHSmith
North American Print & Ebook
Amazon.com | Amazon.ca | BarnesandNoble.com | IndieBound.org